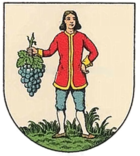 Grinzing - Vienna, my district of residence
The Himmelstrasse ("heaven's street") in the center of Grinzing, a residential district of Vienna where I live since 1990. Grinzing is the classical "wine village" at the outskirts of Vienna. People go there to taste the "Heurigen" (new wine). Center: the old catholic church of the former village of Grinzing, now part of Vienna's XIXth district. Left: Heurigen "Berger," one of the best wine tasting places in Vienna.
Background music from the film "Der dritte Mann" (The Third Man) by Orson Welles. The composer, Anton Karas, owned a Heurigen (wine restaurant) at the nearby village of Sievering.